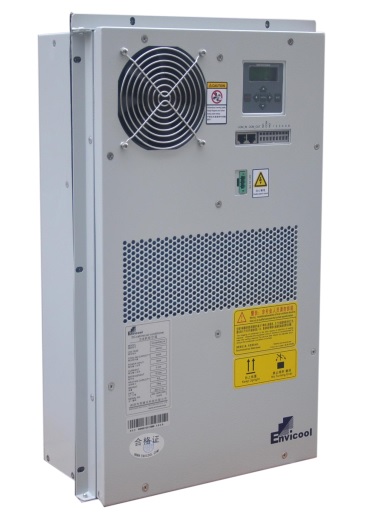 DC Series Air Conditioner
Envicool is a national hi-tech enterprise, focusing on providing professional
thermal control solutions for equipment. Envicool has accumulated rich
technological experience and lots of application in this field. The DC series air
conditioner is specially designed for DC powered application, by maintaining
certain temperature to ensure lifespan of device. DC series air conditioner is
well functioned, high reliable, and easily installation. The cooling range is 300W
~ 5000W. It can work promptly after power connection, no need for complicated
debugging. Envicool also has other series products.

DC05HDNC1A
DC05 is a pure DC powered air conditioner, with worldwide application history
Ø Integrated design
Ø Door mounted, well matched with cabinet
Ø Cooling capacity 520W@L35/L35
Ø Working temperature range: -40℃ to +55℃ w/ heater

Product Features
Ø Environmental friendly – R134a and RoHS compliant
Ø Energy saving
Ø Protection for high voltage
Ø LCD menu display, easily get data and alarm information
Ø Design lifetime >10 years
Ø Easy installation and minimum maintenance
Ø IP55 protection level
Ø Optional heater

Applications
Ø Outdoor Battery Cabinets
Ø Outdoor Radio Base Stations / Telecom Cabinets
Ø Outdoor Power Supply Cabinets
Ø Outdoor Gen-set Control Cabinets
Ø Outdoor Solar Powered Telecom Cabinets
Ø Outdoor Wind Power Control Cabinets