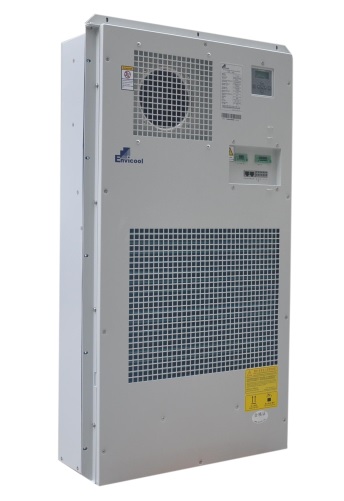 Envicool EC Series Air Conditioner
Envicool is a professional thermal control solutions provider for outdoor
cabinets. Envicool has accumulated rich technological experience and lots of
application in this field. The EC series air conditioner is the result of Envicool
technology applied in AC powered outdoor cabinets. The cooling range is 400W
~ 5000W.
Envicool also has many other series products for outdoor cabinets and base
station usage. Such as DC air conditioner, HC combo air conditioner with heat
pipe.

EC15HDNC1J
The EC15HDNC1J is a compact, high efficient AC powered air conditioner.
The design is optimized for applications with limited space available, but
where functionality and performance still cannot be compromised.
Ø 220VAC power input
Ø 1500W cooling capacity@L35/L35
Ø Door mounted – easy integration in outdoor cabinets
Ø Standard configuration with heater
Ø Wide working temperature range: -40ºC to +55 ºC w/ heater

BENEFITS
Ø Energy saving
Ø Lifetime >10 years – minimum maintenance
Ø Environmental friendly – R134a and RoHS compliant
Ø IP55 and corrosion proof
Ø Dedicated design by delay start
Ø RS485 for remote control

APPLICATIONS
Ø Outdoor Battery Cabinets
Ø Outdoor Radio Base Stations / Telecom Cabinets
Ø Outdoor Power Supply Cabinets
Ø Outdoor Gen-set Control Cabinets
Ø Outdoor Solar Powered Telecom Cabinets
Ø Outdoor Wind Power Control Cabinets